When it comes to well managed and diverse transportation for luxury transportation needs, it simply does not get any better than the fleet provided by us at Bellevue Party Bus! We have hand selected each and every one of our vehicles in order to provide the most full featured, top of the line vehicles in the entire region! We greatly pride ourselves on our ability to provide a comfortable, safe, and modern selection of luxury vehicles.
No matter the party or occasion, you can rest assured that we will have a vehicle that fits you perfectly. Whether the occasion is a small, intimate affair, a mild-sized excursion with friends, or a wild and crazy party with tons of people, you can bet that we will have a vehicle that suits your needs! And with each of our vehicles having unique features that are all awesome, you can be sure that you will be getting an incredible vehicle no matter what!
Take a look below to get a full list of our entire fleet, and read the descriptions to see which vehicle works best for your party or event. If you have any questions, or need help figuring out which vehicle works best for you then please do not hesitate to give us a call!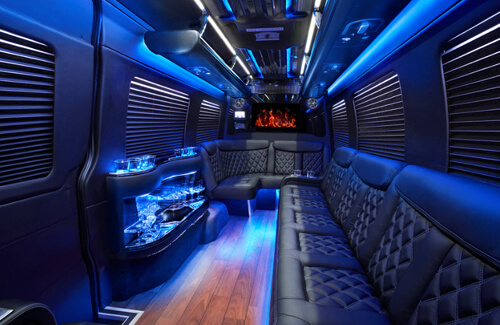 12 Pass Party Bus Sprinter
In our fleet, we have a beautiful variety of Mercedes Sprinter vans available for small to mid-sized groups, starting with this gorgeous 12 passenger option. This custom Sprinter has a limousine style interior with all the finest amenities. This Mercedes van offers plush leather seats, vibrant color-changing lights, and a spacious beverage cooler. You won't find a more beautiful vehicle for small gatherings.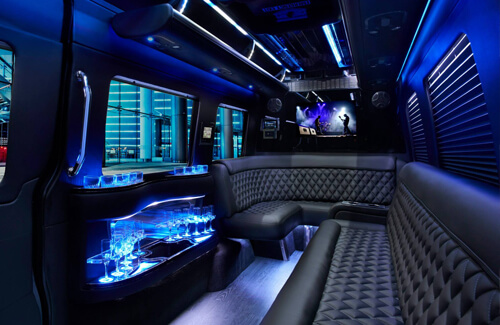 14 Pass Party Bus Sprinter
Next up in size you'll find our 14 passenger Mercedes Benz Sprinter van. Of course you can expect a luxe interior on board this one with plush leather seats, beautiful wood floors, privacy shades, vibrant lights, a large TV, and a spacious cooler with ice for your drinks. Of course there's also a DVD player, CD player, and connective ports for your iPod, and none of that would be complete without an outstanding sound system!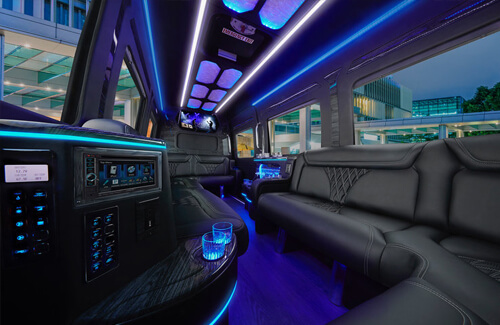 14 Pass Party Bus Sprinter
One of our largest Mercedes Sprinter van options is this one for up to 14 passengers. It has the fun features and amenities you'd expect from one of our quality vehicles. This van has vibrant LED and fiber optic lights, a booming surround sound audio system, a CD player and iPod connectivity, a large flat panel TV and a DVD player, and of course a cooler for your drinks! We'll stock it with ice for you!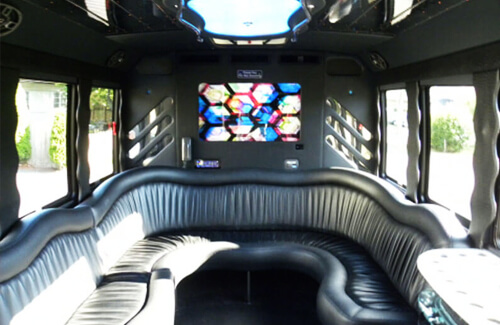 18 Pass Party Bus
The 18 passenger bus is a beloved vehicle that is great for birthday parties and bachelorette and bachelor parties that are looking to have a fantastic, fun time, while still being relatively small with a good amount of room. They have beautiful two tone leather seating, premium surround sound systems, awesome interior lights that set an unforgettable mood. They also have dual control stereo and light systems so you can truly take control of the party. In addition to this, there are also bar areas with bottle storage. This bus has one of the most beautiful interiors of all of our vehicles, so you will not be disappointed!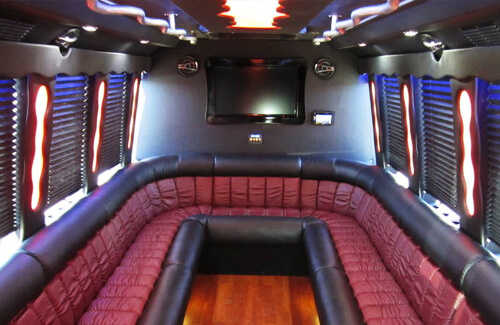 22 Pass Party Bus
You and your guests will love this party bus for up to 22 passengers! On board this bus you'll find a spacious custom limousine style interior. This bus has leather seating wrapped around the perimeter, a large flat screen TV with a DVD player, a CD player, and of course a custom installed stereo system to blow your mind! There's color-changing lights, custom ceiling lights, and more. This is a popular vehicle for those getting married, hitting the town club hopping, and anything in between! It's great for it all!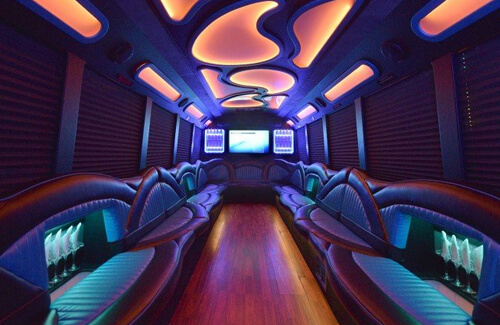 30 Pass Party Bus
A beautiful, luxurious vehicle that is great for many occasions is fully featured, beautiful, and sleek. You will truly impress everyone around when you show up in a grand, fantastic party bus like this. There are tons of great features to love about this particular bus. It is larger than the previously listed model, which makes it great for weddings, prom night celebrations, and nights out to music venues and sport events. With flat screen LCD televisions that have DVD hookups, dance light shows, custom surround sounds, and so on, this bus is a great party on wheels!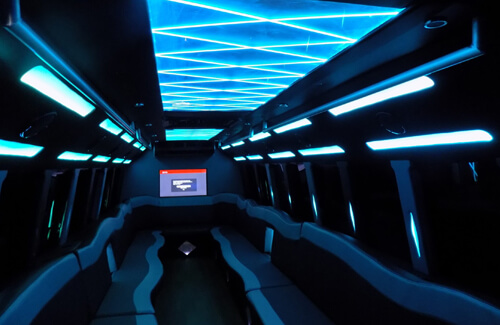 36 Pass Party Bus
If you have a big group, with up to 36 people, then this is the bus for you! On board this bus you'll enjoy wrap-around limousine seating, wood floors, vibrant LED lighting that changes colors, a large TV and a DVD player. The stereo system is incredible and you can enjoy your favorite music with concert quality sound. You'll find that this versatile party bus is perfect for any type of event or celebration.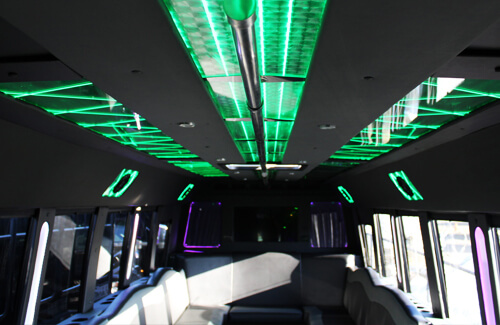 36 Pass Party Bus
With awesome, two tone wrap around seating, this Bellevue limo bus is fantastic for many different reasons. It comes equipped with beautiful wood flooring that you can boogie down on, as well as color changing LED lighting that shines on the floors, as well as the ceilings. There is a large flat screen monitor that can play whatever you want, including the best games that you want to watch and everything in between. The bus also has fantastic, stadium quality speakers with iPod, CD Player, and FM/AM stereo hook ups. There are also racks that store crystal glasses as well as holders for rock glasses.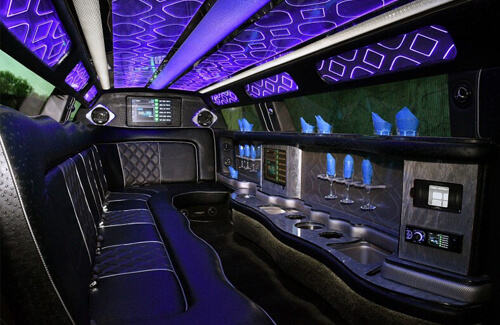 10 Pass Chrysler Limousine
This awesome vehicle is frequently considered the best, and hottest limo around. It has a slick black canvas top, a classy mirrored ceiling, beautiful Pearl Vanilla White exterior paint, and that unmistakable Bentley Grill. With all of these beautiful features, you'd think that'd be enough, but that's not where the amenities end. They also have custom wave seats that are criminally comfortable, Plasma screen televisions, bar areas with built in lights and coolers, and two stretch windows that look cool from the outside, and amazing from the inside. This Bellevue limo is one of the classiest vehicles that you can possibly utilize for any occasion that you could possibly desire.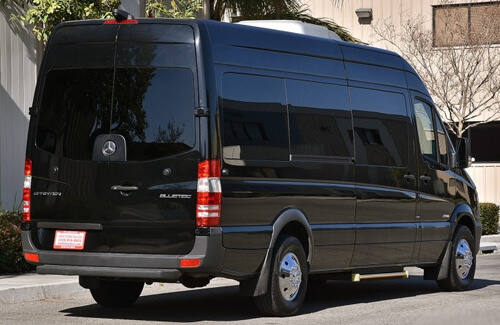 10 Pass Shuttle Van
While not quite as luxurious as some of the other vehicles, the Mercedes Sprinter van is still a sleek and professional vehicle that has lots of room for luggage and people. It is a fantastic, ideal choice for big groups with its comfortable seating situation, privacy windows, and more than spacious interiors. For just about any occasion, you will find a use for this vehicle. Weddings, airport service, shuttle service to sporting events or concerts, and even just bar hopping are all great reasons to utilize a shuttle van.
14 Pass Coach Bus
The 14 passenger coach bus is a great option when it comes to shuttling people around. These vehicles are built with comfort and safety as the primary concern. They feature room for up to about 14 passengers, with high roofs, side step-in heights, and spacious room. The interior is absolutely fantastic with tons of fantastic features like color changing LED lights, hardwood floors, plush leather seats, and flat screen television sets.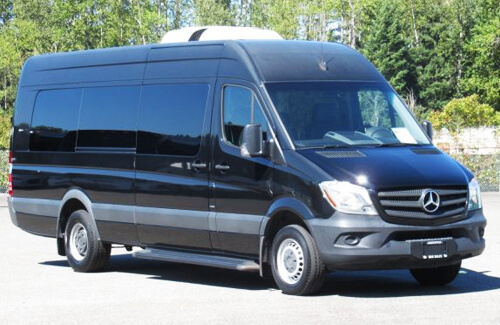 14 Pass Shuttle Van
This beautiful 14 passenger Mercedes Sprinter van is a remarkable option for many corporate groups and needs such as airport transfers, meetings, conventions, and executive travel. The exterior, first of all, is sleek and beautiful, and you will have no problem impressing everyone who will be on board of the vehicle. The plush leather seats with convenient access provide optimal comfort, and with enough room so the passengers will not feel cramped and annoyed with their seating arrangements.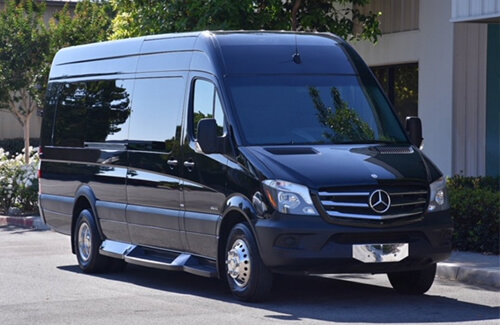 14 Pass Shuttle Bus
Another Mercedes Sprinter van for up to 14 passengers you'll find this beautiful shuttle van. This van also has space for luggage. On board you'll find black leather seats, tables, USB outlets, privacy shades, luxe wood floors, and entertainment options that will make your ride enjoyable. It's a great bus for airport shuttle and other transportation. The hardwood floors are also very nice looking, providing a very sleek and complete look for the whole vehicle.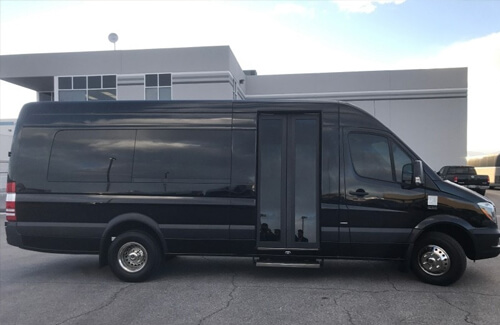 14 Pass Shuttle Van
We have a stunning fleet of Mercedes Sprinters available, this included. With seating for up to 14 passengers and dark window tint for privacy, this Mercedes offers a nice, comfortable ride. It has a great sound system, and is perfect for airport shuttle services. If you're planning some sort of corporate event that requires transportation, then this vehicle might be right up your alley.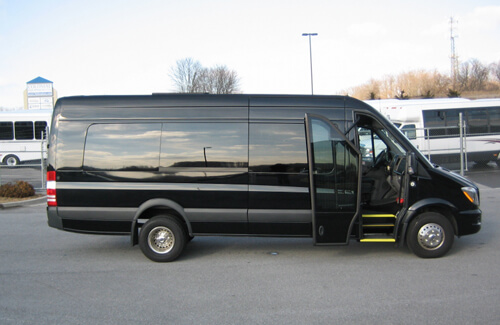 14 Pass Shuttle Van
This Mercedes has super comfortable leather seats that make for a very relaxing ride! It has seating for up to 14 passengers and up to 4 suitcases. There's deluxe wood flooring, overhead lights, a great sound system, and plenty to keep you entertained on even your longest journeys. These are also very popular vehicles for corporate events, as the vehicle is very sleek and professional.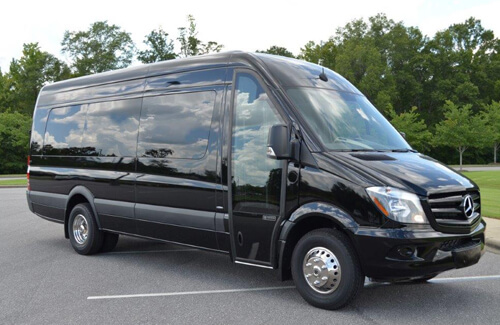 14 Pass Shuttle Bus
This beautiful black Mercedes Benz Sprinter can has high-back black leather seats for up to 14 passengers with overhead luggage space. There's overhead lighting, wood floors, climate controls, and more. These vehicles are great for events like wedding services, birthday parties, anniversaries, and sporting event nights! No matter the occasion, you can rest assured that this vehicle is dependable and safe.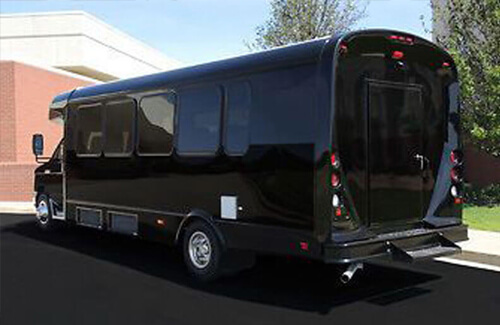 24 Pass Coach Bus
This awesome executive vehicle that is primarily used for corporate events and activities has tons of space for luggage in the rear end and above the passengers in the overhead racks for carry on items. This vehicle is fantastic for tons of different occasions, especially corporate events like airport shuttles, meetings, conventions, and so on. They are also awesome for long trips and field trips for students and the like. They have executive style high back VIP reclining passenger seats that come with arm rests as well.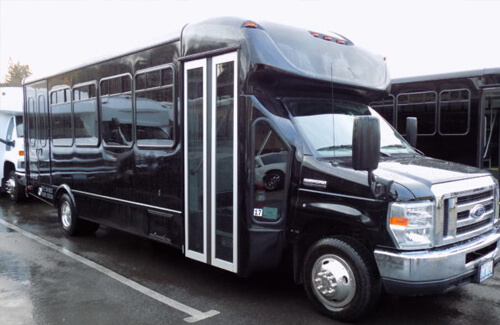 24 Pass Coach Bus
This beautiful mini coach that has one co pilot seat and ample space for luggage in the rear of the vehicle is a fantastic, executive vehicle for anyone looking to enjoy a great time traveling for field trips or corporate events like airport shuttles, conventions, and so on. With overhead passenger luggage racks, reclining passenger seats, great big windows, color changing overhead lights, and flat screen LCD TVs with DVD and CD players connected, this bus is fantastic for tons of different kinds of occasions. No matter what you think of, this bus is great for transporting all sorts of different large groups.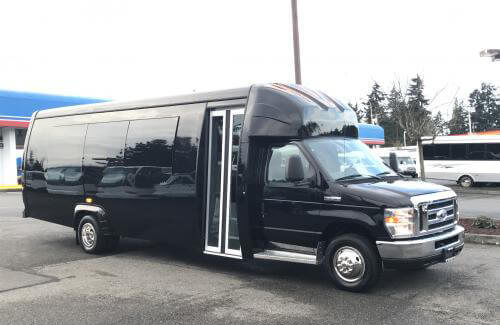 24 Pass Coach Bus
This super duty bus is a remarkable vehicle that can seat up to 28 passengers. It has two tone surround seating that is fantastic for mixing a corporate event or field trip with a party atmosphere! With exotic color changing ceiling designs, LED floor lighting, hardwood floors, a large flat screen monitor, AM/FM stereo, CD/DVD player, and a power control panel for passengers. This vehicle is fantastic for all sorts of different occasions from ritzy corporate events to prom nights to bachelor and bachelorette parties. Whatever the case, you are sure to have a fantastic and safe time with this vehicle.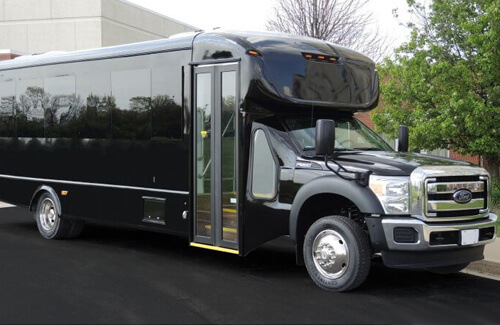 29 Pass Coach Bus
This fantastic 29 passenger bus comes with a co pilot seat as well as tons of space for luggage in the rear and overhead. It comes with great high back reclining passenger seats, four flat screen television sets that are connected to a DVD and CD player. The large touring windows are fantastic for long trips such as events like corporate events such as conventions and meetings, or long executive trips. The bus also comes equipped with a guide seat and PA system, which makes this vehicle fantastic for guided tours as well, if that is something that you are interested in.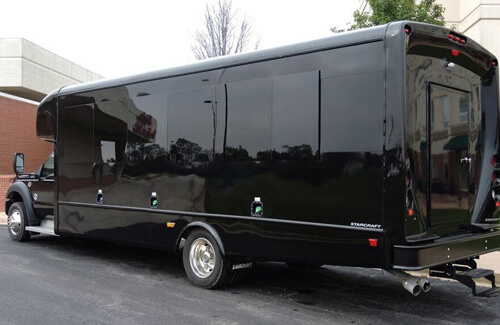 33 Pass Shuttle Bus
This larger than life charter bus is fantastic for very large corporate groups headed to conventions, meetings, or executive trips, or for simply large groups headed on a trip or even down to the the nearest city to see a concert or a sporting event. It is also fantastic for guided tours, as it has a co-pilot seat and a PA system that projects throughout the whole bus. The bus has tons of room for luggage, as well as overhead racks that allow the passengers to hold carry on items. They also have reclining seats with arm rests. The seats are remarkably comfortable and will please every passenger on the bus.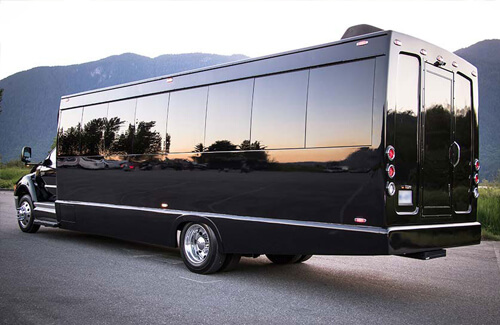 36 Pass Shuttle
This spacious 36 passenger Ford F650 executive shuttle bus is great for your long travels around Washington. It's a great bus for just about anything. It has a gorgeous black exterior with large, dark tinted windows, and a custom interior. This shuttle bus has plush, hi-back leather seats, hardwood floors, and overhead lights. There's also a CD player and DVD players with 6 flip-down TVs so ensure you have entertainment during your travels.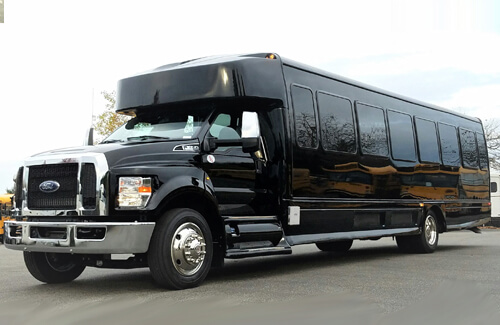 44 Pass Shuttle
Here you'll see our 44 passenger Ford F650 executive shuttle bus with it's clean black exterior. The interior is clean and comfortable and has plenty of features you'll love for long distance travel. Reclining leather seats, overhead luggage space, DVD player with flip-down TVs, CD player, and AC climate controls. If you're traveling far and want a comfortable and relaxing ride, this is a stunning bus for the job.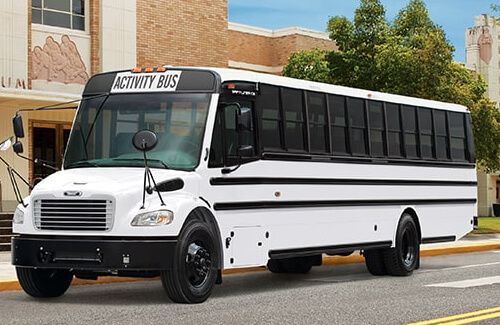 51 Pass Freight Bus
Among the largest buses in our vast fleet of luxury vehicles, is this 51 passenger Freightliner Activity Bus. With 13 rows and seating for up to 51 passengers, this bus can suit the needs of even the largest events. Give us a call any time, 24/7 if you're interesting in renting this spacious shuttle bus for your next outing in Bellevue!
56 Pass Coach Bus (Pair)
If you have 56 passengers to transport, consider this pair of coach buses with luxe interiors. When you rent these buses, you can transport up to 56 passengers plus suitcases. You'll enjoy USB outlets in each row, luxury wood floors, panoramic windows, TV screens, DVD players, individual reading lights, a PA system, and more. Not to mention comfortable high-back leather seats.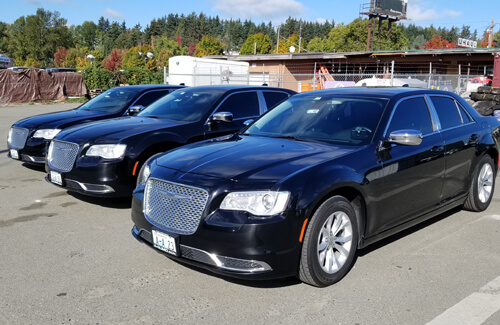 Chrysler 300 Sedan
Our fantastic luxury sedan is an ideal and affordable method for you and your guests to travel to and from the airport, head on down to the local sports events, head to corporate events, go on ritzy dates, and so on and so forth. There is tons of luggage space, and it is a easy, elegant, and luxurious way to travel. They come with dark tinted windows, reading lamps, a stereo system, and plush leather seats that are extremely comfortable. These vehicles are sleek, black, and beautiful. You will have many people turning their heads to watch this vehicle drive down the street.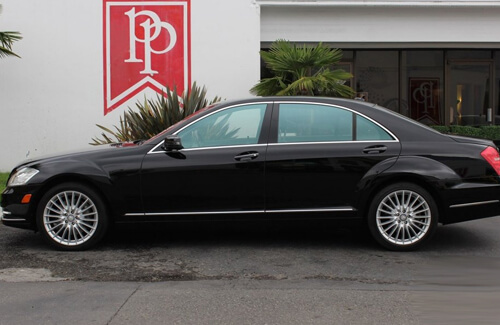 Mercedes Benz Sedan
Our Mercedes sedan can seat up to 2 passengers in the lap of luxury. This sleek black Mercedes with black leather interior is ideal for traveling around Bellevue, for airport transportation, and more. If you want a cozy ride to take you around town to run errands, this is a luxe choice. If you're interested in renting this gorgeous Mercedes for your next trek around town, give us a call. You can reach us any time, 24 hours per day! You'll be surprised how affordable our deluxe car service is.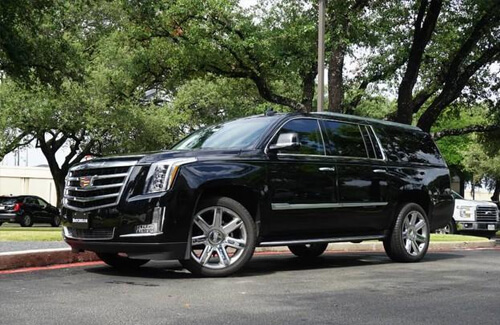 5 Passenger Escalade
This larger than life executive SUV is one of that largest SUVs on the road. It is fantastic for being picked up or dropped off at the airport because of its ample and comfortable passenger seating as well as its great luggage space. It is also fantastic for extensive trips because of its extremely comfortable and spacious seating. With our professional drivers behind the wheel, you can be guaranteed that you will have a safe and comfortable ride through one of our awesome Ford Excursion SUVs. For anyone who has a little bit of extra passengers or luggage, this vehicle is a no brainer.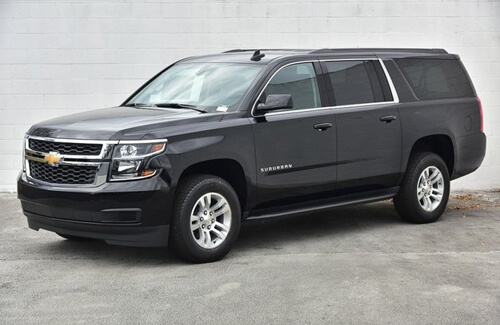 6 Passenger Chevrolet Suburban
Fantastic for truly any kind of occasion, the 6 passenger Chevrolet Suburban is a fantastic addition to the Bellevue Party Bus lineup. Its comfortable leather seating situation can comfortably seat up to seven passengers and it is an ideal choice of transportation for all sorts of different occasions such as heading to sport events, concerts, graduations, and so on. The remarkable storage space provided in this vehicle also makes it fantastic for trips and being picked up from the airport. Don't let your guests or yourself get picked up from the airport in a small, generic vehicle. Get picked up or dropped off in style with one of our remarkable Chevrolet Suburbans.