For us, it's a pleasure to provide quality and luxurious party buses and limousines in the Seattle metropolitan area! Are you seeking a party bus company that meets your transportation needs? If so, we invite you to know our top-notch service, more than vehicles; we work to satisfy the expectations of our high-profile clients and make their special occasions a memorable experience. Therefore, we have an extensive collection of vehicles with a great variety of styles and sizes, as well as experienced professionals who will help you with all trip details before and during your big day. We are ready to attend to you, so call, and one of our advisors will advise you to find the perfect vehicle to accommodate and celebrate with your group across Seattle, WA.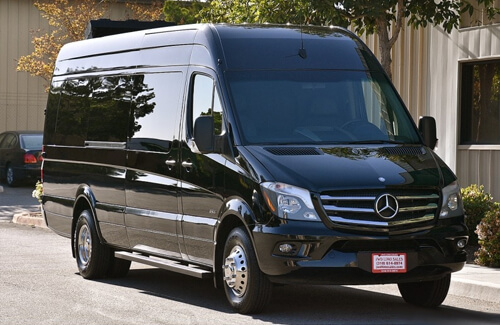 Party Bus Sprinter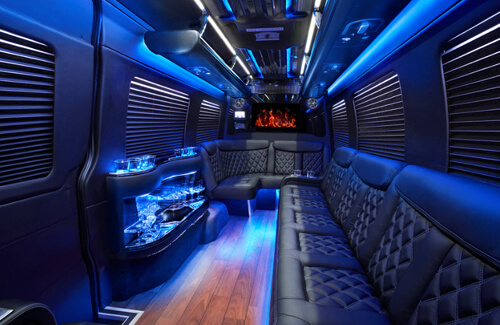 14 Passengers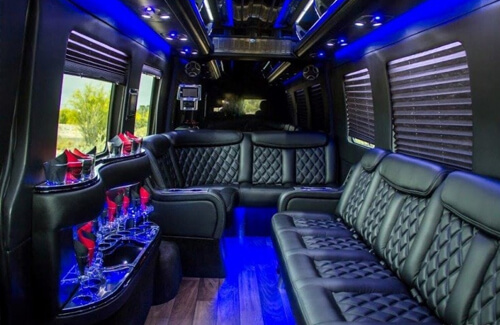 The finest amenities
Party buses and limos for any special occasion
What do you plan to do for your birthday party? There is nothing better than our party bus and limousine service if you want to unconventional and fun way to party with your friends and family. All our vehicles are designed for the entertainment, relaxation, and pleasure of our customers; that's why you will have the best experience and great success at your event. Additionally, to adjust the best possible to your requirements, we offer the ease of customizing your event package as you prefer. If you are ready to start planning your bachelorette party, call us, our specialists have some suggestions about plans and places to visit in the Seattle area while enjoying onboard our featured vehicles.
Why choose our party bus or stretch limo for your special event in the Sea-Tac area? Whether a school dance, graduation ceremony, or even an anniversary, our late-model vehicles are equipped with all you need to have a great time, but even better, with our reliable service and royal treatments, you can arrive in style to any place and surprise everyone. Likewise, you can have your dream wedding with our deluxe limo service and shuttle bus rental to transport you and your guests with elegance to your venue. And that's not all; we have a wide variety of transportation service options for bachelorette parties, birthday parties, prom nights, corporate events, sporting events, wine tours, conventions, concerts, and more. Give us a call and request more detailed information.
know our Seattle limo and party bus fleet
Take your parties to a new level with our limo and party bus rentals in the Seattle area! We assure you will easily find the vehicle you expect from our largest selection, which includes party buses, limo buses, stretch limos, party vans, and more. No matter if you would like to have a calm and romantic trip with your partner or a crazy and fun party with your buddies, the characteristics of our vehicles are perfect for all groups and tastes. No need to go to a "club night" when our vehicles are fully equipped with flat-screen TVs, DVD/CD players, color-changing LED lights, a booming surround audio system with iPod connectivity, beautiful wood floors, wet bar areas with coolers, custom cup holders, comfortable plush leather seats, and privacy windows, so dare to rent a party bus or limo with us.
Finding the right vehicle that meets the specific needs of your group can be a complicated task, but with the advice of our customer service agents and booking specialists, you will have the perfect choice at your fingertips. This is because we offer other options besides limousines and party buses. So if you need charter and shuttle buses for airport transportation, a sporting event, or a corporate event with large groups of passengers, check our fleet; we have a wide variety of buses for all group sizes that you will surely love. Come and know our limo and party bus rentals, and discover a great way to travel and celebrate during your special events in Seattle and the WA area!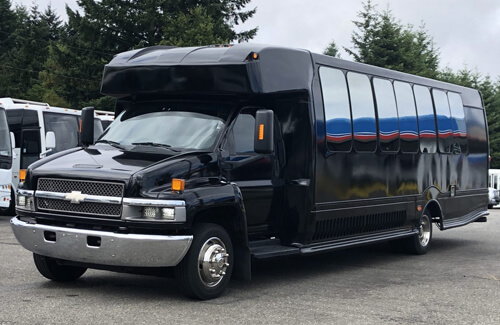 Party Bus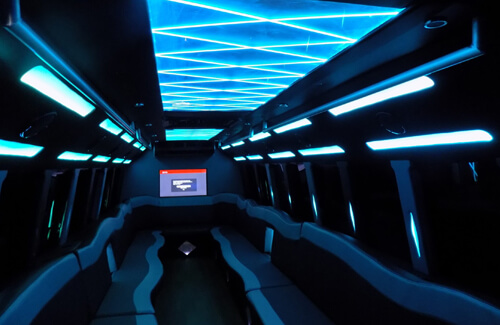 36 Passengers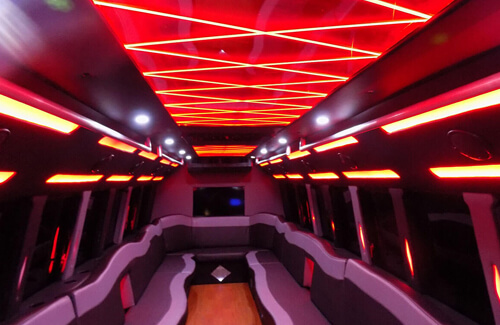 An outstanding entertainment system
Why choose our party bus rental service?
Over the years, we have proudly served the Seattle and the WA area by providing luxury transportation service and top-of-the-range party buses and limos with the best features. We are not only concerned that our clients have such a great time on board our party buses and limousines but also that they receive attention worthy of a VIP. This is how we make sure that each person who is part of our staff has the highest qualities and skills, as well as excellent customer service. Day after day, we work to keep the satisfaction of our clients, offering a great service with the best guarantees of reliability, comfort, efficiency, and affordable pricing. So if you are looking for party bus companies in Seattle, you should consider us!
Another of the reasons why our clients prefer us is our reliable chauffeur service. We know that the last thing that our customers want during their special events and trips in the Seattle area is to take care of taking the wheel, so don't worry. We assure you will have a pleasant ride and enjoyable moments with your loved ones while our drivers handle each situation or problem on the road professionally. Besides, you can prepare and enjoy your events as you deserve and stress-free for the prices since we have the most affordable rates for limo service and party bus rentals in the Sea Tec area. If you are looking for party buses and limos in King County or other places in the WA area, check out our service areas. What are you waiting to rent a Seattle party limo? Call us now, request a toll-free quote, and reserve yours.