Do you feel like you are on a quest for searching the best party bus rentals in Everett? Stop right there! Our Everett limo service and party bus rentals are everything you wish and expect to get from a reliable party bus transportation service. If you live or are traveling around Everett, WA, an excellent way to make the most of your trips is to use a party bus; that's why, considering your wishes, we have designed a perfect limousine service for each travel or special event needs. Here in the "City of Smokestacks," you will find an extensive list of things to do that surely will keep you busy such as exploring top breweries and pubs, going to one of the many festivals that take place throughout the year, or even plan a week-long trip to visit not only this but all the surrounding areas and enjoy the wide variety of experiences to live, always counting with our Everett limo service that above all assures you a comfortable ride and an unparalleled treatment.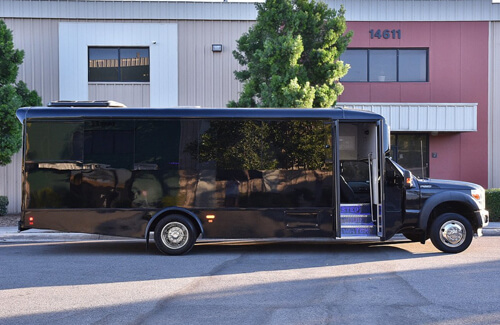 Motor coaches service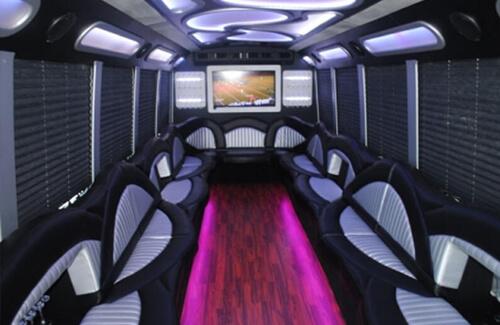 10 passenger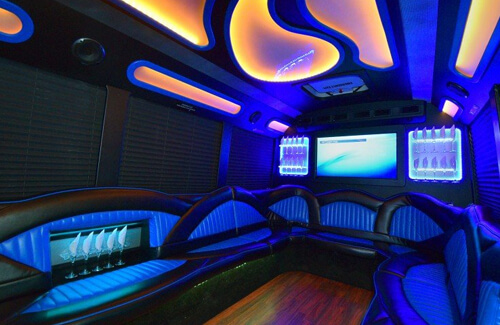 Fancy features
Enjoy your special occasions with our party bus limo service, Everett
We know everyone wants incredible and ever-lasting memories of their special events, so to offer this same great experience to our customers inside our limo services in Everett, WA, you will find a list of different types of celebrations that we care for, including bachelor parties, wine tours, bachelorette parties, sporting events, corporate services, wedding day events, or a funny and wild prom night with friends. Our limousine service in Everett has incredible drivers ready to go with you to the places you indicate. As for our party buses, we are proud to say that we have the best fleet available for all types of groups, and we make sure to find the perfect vehicle for your special day.
We are compromised to provide a high-quality service where everyone feels comfortable and happy. So, considering our customer satisfaction, each limo or party bus inside the fleet comprises neat features such as a surround sound system that will work very well during a big event such as a bachelorette party or a bachelor party, even a wedding party in Everett area and surrounding areas, in addition, another incredible attribute you can enjoy, and about which you can ask the availability, it is the dancing LED light show. Our service has everything you need to enjoy your parties to the fullest, letting you remember these moments as the best! Don't stop to contact us; we offer the info you require about our limo services in Everett and the terms and conditions for our top wedding transportation and wine tour schedule.
Stress-free limo services in Everett, WA!
The feeling that nothing can result in bad is incomparable; considering this, let us tell you that one of our strengths is that our work is the best when you need reliable transportation services for your events. Our Everett limo service will never let you down! Every party bus, limo service, cadillac escalade, stretch limo, and charter bus is ready to offer you a unique experience; we will take care of all the transportation logistics, so you only have to worry about enjoying your moment. Party Bus Everett, WA, is the party bus rental company you didn't know you needed because here, you will find everything you call for to make your trips incredible experiences.
Unlike any other party bus rentals near our Everett bus company, we are committed to offering a crème de la crème limousine service. That's why our party bus services are aimed to be the best in every field, being our most recognized party bus services, the airport transportation service, and the wedding transportation Everett limo service for a memorable wedding day. Therefore, if you decide to take our Everett limo service, all you have to do is sit back and relax; leave all the complicated stuff in the expert hands of our booking team. We guarantee that whichever party bus limo service you choose, whether you need airport transportation, limo service transportation for wine tours, or any other Everett bus and limo rental service, will be provided with the best standards to meet your expectations.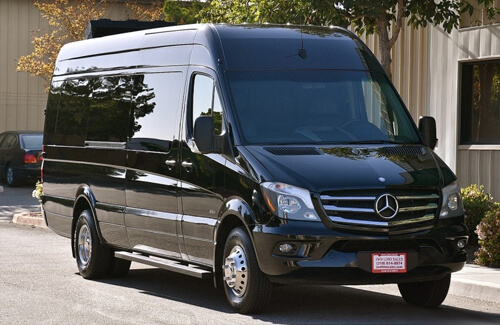 Shuttle bus service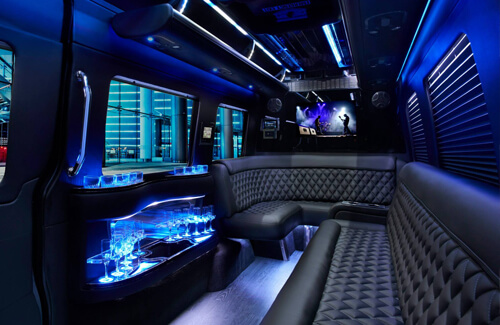 14 passenger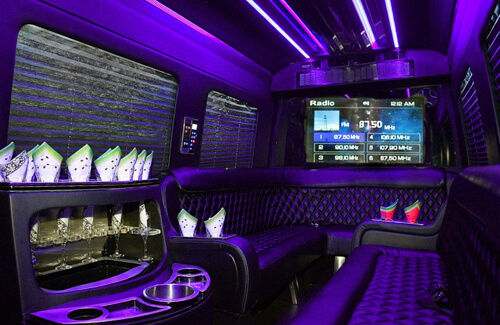 Delux interiors
The Leading party bus in Everett service
The best way to make your events something that will be talked about for a long time is by taking a party bus service in Everett, and the best option in the market is our limos party buses in Everett, ready to make your airport transportation service, shuttle bus service or any other party bus in Everett service the best of all. Our party bus service is so excellent: First, in our fleet, you will find all types of party buses and Hummer limos suitable for all your needs. Secondly, each party bus has outstanding features, including ample space for your entire group to find its place, a great sound system to play your most loved songs, and much more. And finally, we count on Everett's best and most skilled staff to assist you in booking so you feel safe and have clarity about what you are paying for.
So when you think of the best Everett limo transportation services, that's where we come in. Our services are entirely made for any occasion you need them, whether a wedding party celebration to a sporting event. Our amazing job is done with the aim that all our clients feel that they are listened to and understood and that the service they acquire is transparent and meets their expectations. We work for and to make your occasions the most exclusive and memorable. Call us, and we will answer every question you have about our service, availability of the party buses, and other doubts you may have. Enjoy Everett and its surroundings in a different way!